"Autograph" of Vera is located at 26, Petriashvili str, in the historic district of Old Tbilisi, and is a
premium class project that blends harmoniously with the environment and architecture of the
surrounding area.
As the area is characterized by dense settlement, the project includes a closed, green yard and
two-level garage. The ten-story modern and sophisticated architecture overlooks Tbilisi, which
provides residents witb panoramic views of the city, also in the eat close view of beautiful
Mtatsminda.
The living spaces of the apartment start from 54 sq. m. Penthouses are provided on the upper
floors.
It is also noteworthy that for the first time on the Georgian construction market, the company
"Autograph" will buildimg a "smart building" which means that residents will receive apartments
that only need finishing cosmetic maintainancr with "smart home" features.
Most importantly, "Autograph" creates each apartment according to your plan, design and
"signature"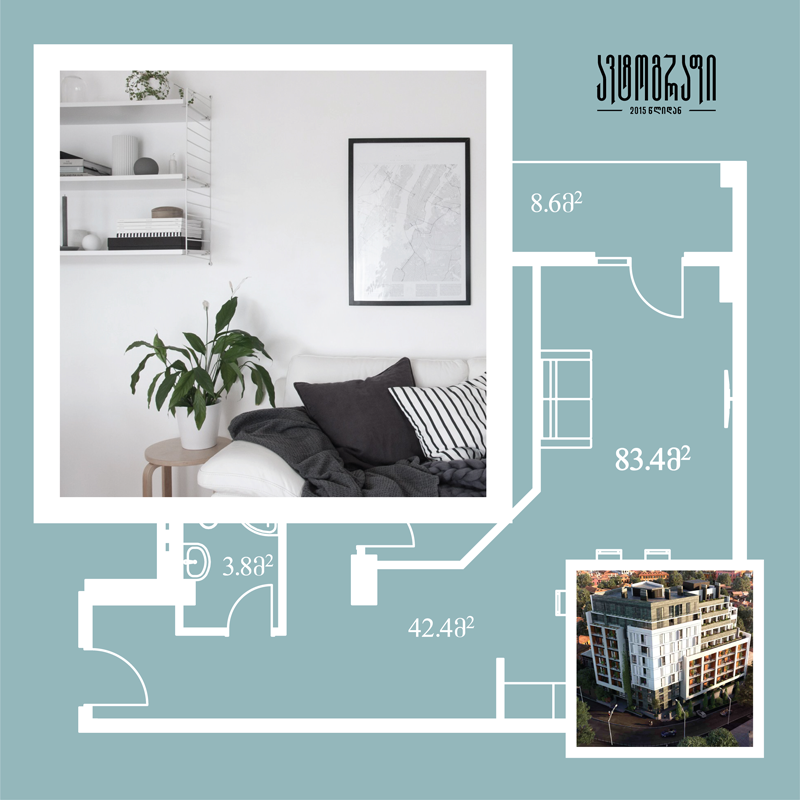 Concierge service
"Autograph" concierge is always ready to provide residents with various types of services including
parking a car, calling a cab, booking tickets or technical maintenance around the apartment.
Security
Every metal door of "Autograph" apartments is equipped with European highest quality
double lock. Brand new standard smart signaling systems sends a message straight to a
smartphone. The apartment complex has 24 hours security service.
Cleaning
Our cleaning service will ensure permanently clean parking, entrance and yard in "Autograph."
Landscaping
When entering "Autograph" yard, green environment full with fresh air will catch your attention. You
and your family members will always be able to spend your time presently. Our gardeners will take
care of landscaping and aesthetics of the yard.
Membership card
"Autograph" membership card will be given to each of our residents so that they can enjoy
discounts on facilities they need to furnish the apartment with.
Goodwill
ჩვენი შეხვედრებისა და საკონფერენციო ტექნოლოგია მთლიანად არის ინტეგრირებული ჩვენს ყველა საკონფერენციო ცენტრში და შეხვედრების სივრცეში.
Kindergarden №172 is located at 5a Petriashvili Ave.
One of the best educational institutions in is located 10 minutes from Vere's "Autograph"
Located at 19, Petriashvili str, 2 minutes drive from "Autograph"
A fitness club near the residence is one of the important factors for the residents. World Class Fitness
Club, which offers premium-class fitness services to the highest standards, is located at 1, Melikishvili
Avenue.
Tbilisi Concert Hall "Philarmonia" is located at # 1 Melikishvili Avenue.
One of the largest multifunctional spaces in the 30-minute drive from Vere's "Autograph" is "Wine
factory"